It is very important to measure ring size, especially when you are ordering a ring online or if you are getting engaged and your in-laws want to know your ring size.
How do I measure ring size at home? What is my ring size? You are excited to buy a new ring but confused about your ring size? While these are a few questions people often ask and are confused to find an answer. Here's an easy guide to measure ring size:
How To Know If A Ring Fits Properly?
The ring should fit your finger comfortably: fit enough so it won't fall off, but loose enough to slide over your knuckle with relative ease. When the knuckle is bigger than the base of the finger, measure both places and pick a size in between the two.
The difference from one whole ring size to the next is a matter of 2-3mm in the circumference of the inner part of the band.
Many people find that a variance of a half size or less, still fits comfortably most of the time.
The wider the ring, the tighter it will fit on a finger. For anything 6mm(quater inch) or more in width, go a half size up.
The interior of the comfort-fit ring puts less metal in contact with the finger, so they tend to fit a little loose. If you have large knuckles, you may need to go up a half size.
It's also good to keep in mind that finger size fluctuates slightly based on diet, temperature and activity. The way your ring fits may change slightly over the course of a single day.
Method 1: Using A String/Paper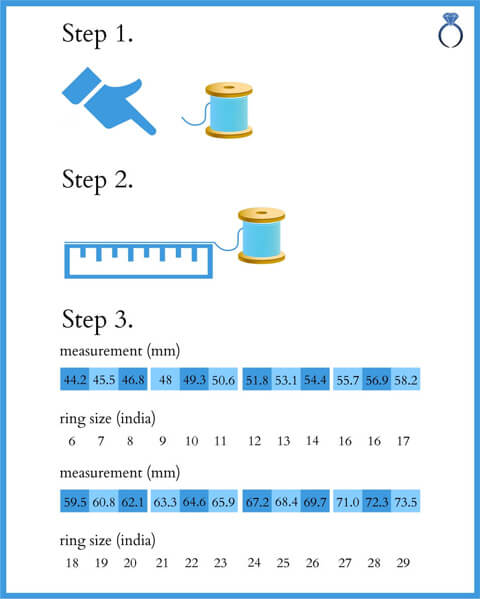 One of the easiest ways to measure ring size is to measure your finger with a strip of paper or string. Start by cutting out a strip of paper that is approximately 3/4-inch wide and 4 inches long. Wrap the paper around the base of the intended finger, and then mark where the paper overlaps. The length of the paper you measured in millimetres is the circumference of your finger.
After finding this measurement, use our conversion chart to find the corresponding ring size. If the size of your finger below the knuckle drastically differs in size from the knuckle itself, measure your knuckle as well and choose a size that falls more in the middle of these two measurements.
Method 2: Using A Ring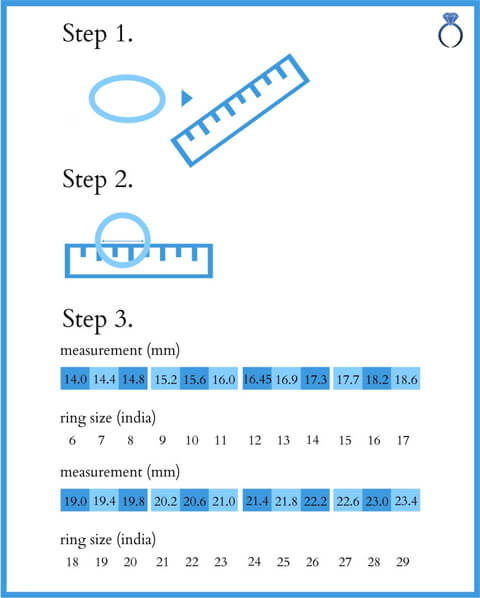 If you have a ring that already fits your finger well, it's even easier to measure ring size. To start measuring, use a ruler to measure the inside diameter of this ring. Just take your ruler and measure straight across the inside of the ring from the centre edge to edge. Take the diameter measurement in millimetres, and then use our measurement-conversion chart to your ring size. Remember to keep the ruler exactly in the centre of your ring or else your size may differ.
Method 3: Ring Measurement Tool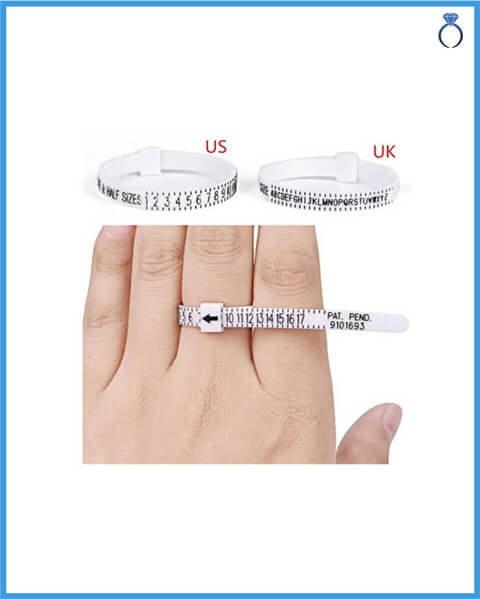 If you're worried about one of the above two methods not guaranteeing accuracy, you can purchase your own ring-measurement tool. These don't tend to be expensive, and there are many options online so, again, you don't have to leave your house to get this step accomplished.
The best-reviewed ring-sizing tools fall into two categories: a thin measuring tape or a keyring lined with a gradient of ring sizes. Peacock Jewels have a top-rated measuring tape that works like a mini belt, with a sliding plastic arrow marker to measure ring size (aliexpress.com). It measures the ring sizes 1 through 17 for women, men, and children. Also available on amazon this (amazon.com) lets you measure your sizes. It also works for women, men, and children. You can buy gradient keyring sizes here (amazon.in)
Method 4: Printable Ring Chart
If you have a ring that perfectly fits you and you just want to measure ring size. Then here's a simple printable size chart. Here I am attaching a downloadable ring size chart which you can easily save and print. Remember to check your printer setting and set the scale to 100%, or else there can be a size difference. Place the ring over the circles, match the inside edge f the ring to the circle closer in size. if the ring falls between to sizes, order the larger size.
Method 5: Visit A Jewellery Store
If you still feel unsure about your ring size or are confused about how to use the ring sizer then you can visit any jeweller in a nearby location. People fear to visit new jewellery shop and shy away from asking size, but it is not necessary to visit your jeweller just know your size, or if in case you are buying online then it's very important to be sure about your size. So very simply you can visit a nearby jewellery shop an request to measure ring size. The same can be done to check your bangle size. I recommend noting the size immediately as we tend to forget the size number when we reach back home.
Conclusion
You can also drop at our jewellery store in Mumbai to measure ring size while browsing our exclusive diamond ring collection.
Thank You
Omarsons Jewellers – +9122 23526343